Seven reasons to advertise in Alternative Therapies in Health and Medicine, the industry's leading publication since 1995.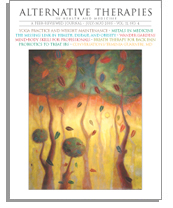 Credibility: Our journals are peer reviewed. Align your company and your product with some of the most respected authorities in the industry. Your message is delivered within the most credible, professional peer-reviewed medical journals serving integrative medicine practitioners!
Visibility: Our journals get read—your ad gets read. Six out of ten Alternative Therapies subscribers (63%) read most or all of every issue. Another 19% read at least half of every issue.
Distribution: Your product gets in the hands of over 26,500 integrative practitioners every month. No other publication has a targeted reach to match ours. A pass-along rate of 4 per printed journal increases your reach to 92,000 for each issue.
Efficiency: Your message hits a highly targeted, highly qualified audience of practitioners. More than 90% of our readers sell or recommend natural products to their patients. Your advertising dollar translates directly into increased sales to the professional market, or pull-through of practitioner recommendations to drive retail product sales.
Affordability: Your ad rate is competitively priced. Compare your best trade advertising buy with our cost per thousand. On a pure cost-per-thousand basis, no other publisher is more cost effective than InnoVision Communications.
Flexibility: Our team of professionals will work with you to plan and execute a media strategy designed for return on your advertising investment. We specialize in print, in-person, and online ACCME accredited media products for MDs and other healthcare professionals.
Simplicity: Our journals all have the same mechanical requirements; one ad layout and size works for either journal. Stimulate sales in 2009 by reaching out to the practitioner market. This is the most influential target for recommending patients toward a retail purchase. This is the marketing edge you need to make 2009 a breakout year in achieving your sales target!
Your Product—Our Practitioner Journals: A Powerful Combination for Profitable Results!
---
Rates and Specifications 2024
Download Media Kit (pdf)
Alternative Therapies in Health and Medicine, in continuous publication for over 20 years, is the leading peer-reviewed journal designed for sharing information on the practical use of alternative, complementary, and cross-cultural therapies. Under the direction of world-class editors and advisors, the journal publishes a variety of disciplined inquiry methods, including high-quality scientific research 6 times a year. The journal encourages the integration of alternative therapies with conventional medical practices in a way that provides for a rational, individualized, and comprehensive approach to healthcare.
Advertising Contacts



Published:

Eight times per year: Jan/ Feb, March, April, May/ June, July/ August, September, October, November/December

Format:
Print and digital editions
Circulation:
Total circulation: 26,500

Readership:
MDs/DOs/PhDs, RNs/NPs, nutritionists,
licensed acupuncturists, homeopaths, DCs,
doctors of dental surgery, social workers,
institutions/academia/researchers
Editor in Chief:
Andrew Campbell, MD
Specifications (Trim size: 8.125"W x 10.875"H)
Ad Sizes (W x H)
Non-bleed safe area
Bleed sizes
Spread
16.25"
x
10.875"
16.5"
x
11.125"
Full Page
8.125"
x
10.875"
8.375"
x
11.125"
2/3 vertical
4.75"
x
10.00"




1/2 vertical
3.375"
x
10.00"
1/2 horizontal
7.00"
x
4.875"
1/3 square
4.375"
x
4.875"
1/3 vertical
2.125"
x
10.00"
1/4 page
3.375"
x
4.875"
Printing Schedule
Issue
Reservations
Materials
January/February
December 1
December 15
March
January 19
January 26
April
February 23
March 1
May/June
March 22
March 29
July/ August
May 10
May 27
September
July 12
July 19
October
August 23
August 30
November
September 13
September 20
Distribution date is the 2st week of the month.
Submission Methods
There are 3 acceptable ways to submit an ad. All artwork, plus a hard-copy proof, must be submitted by the artwork deadline. Please include advertiser name and journal issue the ad is to run in.
Via Email:
• Email ads to: David Benson (able to accept 10mb files)
• Specify advertiser name and issue run.
Via FTP:
• Email David Benson for login information.
• Please send an e-mail indicating file upload, advertiser name, and issue run.
Via CD or Zip Disk:
• Mail to: Creative Director, 3470 Washington Drive Suite 102 • Eagan, MN 55121 • Ph: 651.251.9623
Artwork Submission Deadlines
If artwork cannot be provided by the deadlines or by an approved extension by the creative director, then the publisher will run the most recent artwork submitted. If no artwork is on hand, then the advertiser will still be responsible for payment on the space reserved.


Artwork Questions?
Please contact David Benson by phone at 651-251-9623 or email David Benson.