Are you a manufacturer looking for a platform to communicate the science behind your products to the integrative healthcare community? Click here for more information.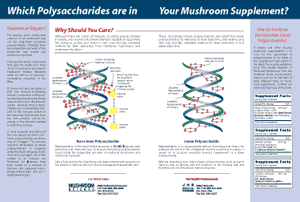 JHS Natural Products
Which Polysaccharides are in Your Mushroom Supplement?
Click here to view this poster

Although there are 1,000's of naturally occurring polysaccharides in nature, only one kind of polysaccharide is capable of supporting the immune system and there is only one clinically validated method for their extraction from medicinal mushrooms and mushroom mycelium. These structurally unique polysaccharides are called "non-linear polysaccharides" (a reference to their branching side chains), and the only clinically validated method for their extraction is hot water extraction.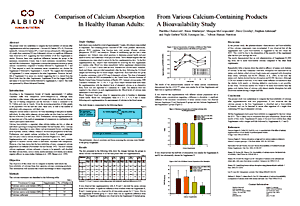 ALBION
Calcium Absorption From Various Calcium-Containing Products in Healthy Human Adults: A Bioavailability Study
Click here to view this poster

The present study was undertaken to compare the bioavailability of calcium after supplementation with four preparations - Calcium AA Chelate (18%; A), Dicalcium malate (B), Calcium AA Chelate (26%; C) and Calcium carbonate (D). After ingestion of a single dose containing 900 mg of elemental calcium, no significant differences were observed in AUC suggesting that bioavailability of all four Supplements is similar. However, there were significant differences between the groups in the maximum concentration (Cmax), time to reach maximum concentration (Tmax) and half-life of elimination. Supplement A showed the maximum increase in serum calcium concentration compared to baseline followed by Supplements B, C and D. Time required to reach the maximum serum concentration was shortest for Supplement D followed by Supplements C, A and B. This suggests that absorption of Supplement D is better compared to the other Supplements. However, the half- life of Supplement D in serum was shortest suggesting that it is cleared from the blood faster than the other Supplements. Supplement B had the longest half-life and seems to be most bioavailable followed by supplement A, C and D. This work was sponsored by Albion Advanced Nutrition.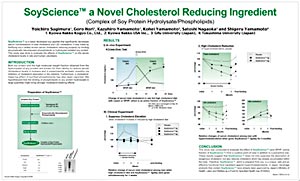 KYOWA
SoyScienceTM a Novel Cholesterol Reducing Ingredient
Click here to view this poster

SoyScienceTM is a new functional food ingredient developed by Kyowa Hakko that has gained GRAS approval from FDA in January 2004. SoyScienceTM is a unique complex made of soy protein hydrolysate and soy phospholipids, in which these two components are attached together by a natural occurring hydrophobic bond. Kyowa Hakko's clinical and safety studies show that a daily dosage of 3 grams of SoyScienceTM helps maintain cholesterol levels that are already in the normal range.